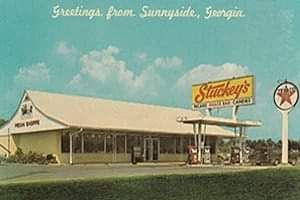 The good Ol' days...road trips...family vacation.  Loading up the big ole Chrysler Newport with my parents and brothers and heading to the home of The Gateway Arch...St.  Louis.  Well, my grandparents lived in East St.  Louis.
The trip was long and often uncomfortable but I'd keep my eyes peeled out on the road looking for Stuckey's.  Stuckey's totally fascinated me.  The amazing souvenir/ c-store started as a pecan road side stand.  The pecan candy took off and led to an interesting roadside stop where you never knew what you would find.
I'd wait all trip looking forward to what Interesting candy and souvenir I would pick.  Stuckey's left but are back.  I haven't been to one of the 115 out there now but the thought of Stuckey's takes me back to the old road trips...fa.ily, souvenirs, and pecan candy.  How I'd like to pile into the old Newport and visit Stuckey's with my family one more time.