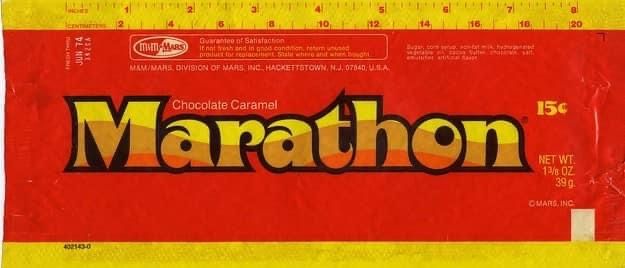 Ahhh growin' up in the 70's.  I was born a chocoholic.  I remember in Cincinnati in late 60s my brothers Mel or Gary taking me to King Kwik for a candy bar.  In the early 70's, it was walking to Village Dairy or Joe's Texaco in Cumberland, Md with Shawn and Damon  In the mid 70's, it was riding bikes in Proctorville to Charlie's Market with Jeff and Forrest.  It was all about the chocolate to me. 
They were a few candy bars that I fondly recall that are no longer around. 
In Cumberland, my favorite was the Marathon Bar.  It came out in 73.  It was 8 inches of ooey gooey chocolate covered caramel.  Mars made it and advertised it as "the candy bar that you can't eat quickly.". I am not sure what killed it off but I would bet it was the messiness.  It was hard to eat without coming away with brown hands,. In the summer, the candy would disintegrate into the wrapper.  It finally totally disintegrated around 81. 
In the 70's I vaguely remember The Powerhouse Bar.  It was chocolate fudge, caramel, and roasted peanuts.  It was around since 50s and left around 87 or 88.  Mars made it at one time and so did Peter Paul. 
I removed a real light and fluffy candy called Chocolate.  It was around in 70s and 80s.  It was never my first choice but then again, I never met a candy bar I didn't like. 
One of my favs in the 80s was Mars Summit Bars.  It was a Cross between a cookie and a candy.  I love them.  They melted to easy and I read somewhere that led to there downfall. 
I never cared much for Reggie Jackson the baseball player.  When he played in Oakland, he said if he played in New York, they'd name a candy bar after him. 
So when he went to the Yankees in 76, the Curtis Candy Company created Reggie.  It was peanuts and caramel and covered in chocolate.  I wasn't a big fan but I liked it more than I liked him. 
What was some of your favorite long gone candy bars?