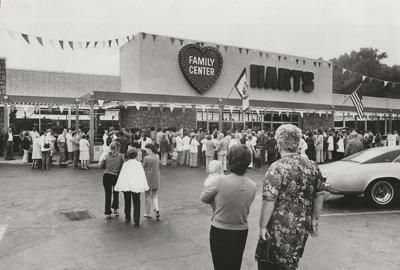 MEMORIES of HUNTINGTON  
"Hart's Family Centers" 
Big Bear grocery stores bought Hart's Family Centers in 1954. Although the company had a couple of Big Bears in Huntington, they did not open a Hart's until 1975.  
In October of 1975, Hart's was owned where Arlan's Department Store had gone out of business on Route 60. The business today is now home of Gabe's.  
In 1976, Big Bear and Hart's opened a side by side combo in Ceredo.  
My family moved here in 1976. My mom and dad would shop at the Route 60 store. This was pre Walmart and Target in this area, there were plenty of options. We had Kmart, Hill's, Heck's, Hart's, and Sears  
When my mom and dad discovered the Ceredo store, we would go there on a Saturday every two weeks. They would buy groceries at Big Bear and household items at Hart's. We would eat lunch at Bowincal's.  There was a plaster craft store they liked and I liked Opus One Records. We spent most of the day there.  
In 1981, Big Bear and Hart's split the Sears store on 29th Street. The Ohio bridge was not yet opened so it was still a good trip from Proctorville and they still went to Ceredo some.  
I started at First Street Bog Bear in 81 and switched to 29th Street. It was just after the 31st Bridge owned and the stores were booming     
I would were night shifts on the stock crew at Big Bear. About the time Hart's was closing for the night, we were coming in. I'd come in early and grab a few things at Hart's.  
In 89, Penn Traffic bought Big Bear. They started combining the stores into Big Bear Plus and shitting some Hart's down. By 1996, Hart's was gone. Big Bear lasted into the early 2000s.  
It was a different world before Walmart took over everything. They certainly were one of the reasons for the demise of stores like Hart's.