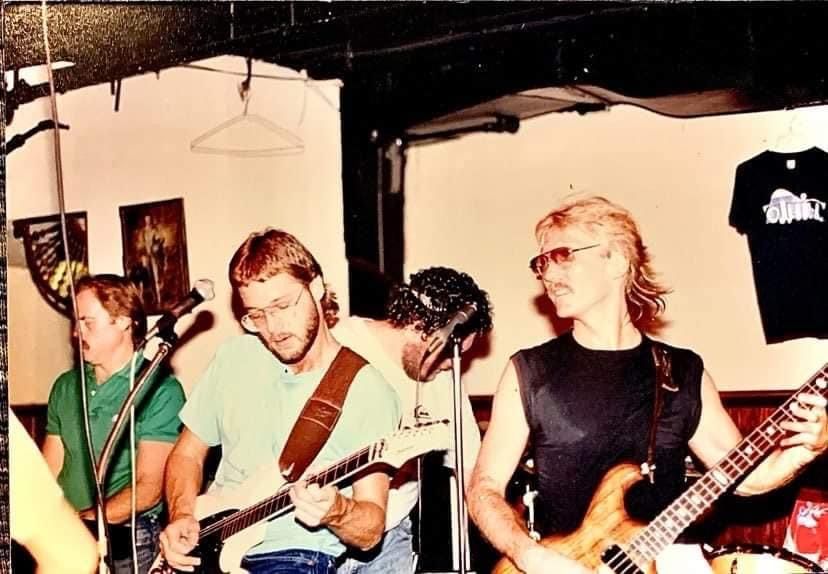 Being a young rock fan and beer drinker in the 80s and 90s had its' advantages.  I was able to watch and listen to some great Huntington bands.   
One bar I used to frequent was The White Owl Tavern.  It was owened by Tom Laishley.  The OT Hill Band played three nights a week from 88 to 90.  They played a mix of blues, southérn rock, and classic rock.  OT Hill Band was Gary "Doggy" Paden on vocals.  Mark Stark on drums.  Rick Mulholland on bass.Mike "Lassie" Hensley was on keyboards.  They had two guitarist.  ..... Rick Brown and Frank Norton. 
There was a whole lot of talent in that band.  Rick Brown is in the pictures below with Tanya Tucker, Joe Walsh, Vince Neil, Sammy Hagar, and Brian May of Queen.   
The first two pictures are of The OT Hill Band.  The second is Brown and Mulholland jamming at The White Owl. 
Rick Mulholland now lives in North Myrtle Beach.  I talked to him by phone the other night.  He told me a story from the good ol' days at The White Owl.  Rick worked at Pied Piper with his friend Sam McClanahan.  Sam and his friend Carl McQuaid played in a band called Stagebrush.  Stageebrush was touring with George Jones and were opening up for him at The Huntington Civic Center.  Rick recounts, "Sam and Carl were coming up to White Owl.  They were going to catch our last set and then we were going to lock up and party.  He said he would try to bring up whoever he could.  So they come up and George doesn't come up but they do bring George's son Brian Jones.  Brian is drinking and getting cocky as he gets drunk.  He starts bragging he can outdrink everyone shot for shot in tequila.  So we start drinking and eventually Brian falls off his stool.  Tommy Laishley is trying to get Brian to quit drinking.  Brian shoves Tommy.  All hell breaks loose.   A person who seemed to greatly resemble me may or may not have put Brian Jones in a headlock. And he may or may not have decided not to hit him because he needs his hands to play music.  The cops came and everything was broken up. I thought to myself, Did George Jones' son really just end up in a headlock at The White Owl Tavern?" 
There's a lot of great talent from Huntington and some great memories and I will be reminiscing about them in a new series of articles. 
OT HILL BAND ON YOUTUBE 
OT HILL BAND at 1996 Harley Davidson MDA Show Part 1 
Part 2 
https://youtu.be/fPkTXX2UdmY  
Part 3 
https://youtu.be/j3_3RBfapdE 
Part 4 
https://youtu.be/wHazpEMKBUM 
Part 5 
https://youtu.be/8TNolBoToz0