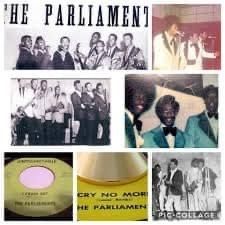 Archie Himonds was a child prodigy musically.  He could play piano by age 3 and drums by 5. He sang in church as a small child. He made his national tv debut in Huntington at age 8 singing on The Today.  He started singing pro by age 15. 
In the early sixties, he went by "Little Archie".  Little Archie wasn't so little though, he was 6 foot 7.  In Huntington, Little Archie started a band with William Banks.  They called themselves The Parliaments. 
They built a following playing local gigs and dances.  They started to grow regionally.  Another band started to grow in New Jersey called Parliament.  This band featured George Clinton who would go on to be a funk icon.  After a legal battle, a judge ruled that The Huntington band could keep the name.  Clinton's band became Funkadelic and had great success in funk. 
The Huntington group  recorded two 45's on Cabell Records, a local label named after the county Huntington is in., one on the Symbol Records label,  and one on their own Unpredictable  label.  
There was an old story that their first single is rare.  They had 1000 copies pressed and left in a flat they were renting.  They a few with them on tour to Tennessee and Ohio.  When they came back, the landlord had evicted them for back rent and threw all of the records out. 
When the band failed to record a hit record, they broke up.  While most of the band stayed in the Huntington area, Little Archie moved on to places like New York, Washington, and Nashville and had a long career in music. 
Click link to hear 
This Is My Rainy Day 
https://youtu.be/_l36BLXbwyE 
Cry No More 
https://youtu.be/OHNCP19Y1H0  
Sweet Nothing 
https://youtu.be/BXsd_kCEd6M