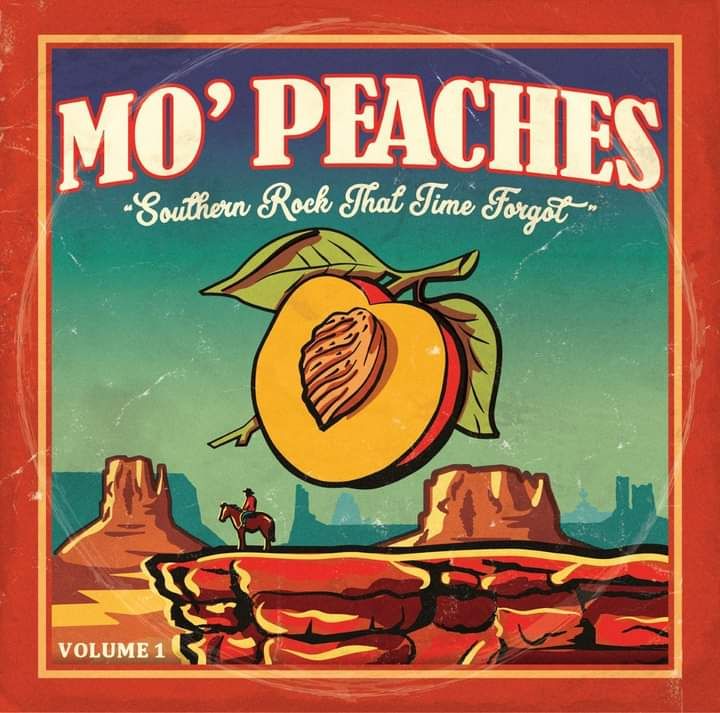 Alligator Jackson is proud to have been added to a compilation lp on colored vinyl put out by German record label Juke Joint 500.  The album "Mo Peaches" is available worldwide on dozens of outlets.
From Juke Joint 500
"
First time on vinyl! 
Limited to 500 copies! 
All multicolored! 
All handnumbered! 
If, like me, you're a die-hard Southern Rock fan, you might remember the Peaches compilation albums from the early '70s. Released in the dirt-cheap Warner Brothers Loss Leaders series, those double albums, which cost just two dollars (Yes, $2!), were crammed full of great, grooving rock music from south of the Mason-Dixon line, showcasing the then current releases from the home of Southern Rock, Capricorn Records. 
When I started compiling this record, I knew what music I was going to be seeking out, but I needed a name that reflected the feeling that the music evoked for me. It seemed both fitting and appropriate to honour those legendary compilations of the '70s that brought so much great music to the wider public, music that was clearly as much of an influence on the bands on this album, as it was on me. So, I decided to call this album Mo' Peaches, in homage to that original compilation series. 
The albums by the individual artists featured here were not released on JukeJoint500, but they might as well have been, they are all great records. The majority of the artists on Mo' Peaches may be unknown to many fans of this music, as most of the albums were self-released on CD-only by the bands themselves, gaining some level of local or regional recognition at the time. I am pleased to be able to collect these songs together for the first time and present them together here for your enjoyment. Who knows, maybe Mo' Peaches may go on to influence future bands in turn, spinning the wheel of southern rock once more. 
A-Side 
1. John Mohead – Due South 
Clarksdale, Mississippi 
(John Mohead/Mohead Music) 
Taken from Lula City Limits CD. Okra-Tone Records 1995. 
2. Alligator Stew – Louisiana Man 
Monticello, Indiana 
(Gary Jeffreys/Copyright Control) 
Taken from Alligator Stew CD. Hogleg Records 2000. 
3. Judge Parker – Slow Down Irene 
Fort Smith, Arkansas 
(Larry Pearson/Hanging Gallows Pub.) 
Taken from their self-titled debut. Court Records 1998. 
4. Bishop Black – Long Road To Bama 
Decatur, Alabama 
(Preston Grammar; Jeremy Braswell/SLC Records) 
Taken from Bishop Black CD. SLC Records 2009. 
5. Morrison Brothers Band – Little Miss Whiskey 
Washington D.C. 
(Morrison Brother Band/Copyright Control) 
Taken from State Of The Union CD. Self-released 2013. 
B-Side 
1. Chase Walker Band – Red House 
Riverside, California 
(Jimi Hendrix/Experience Hendrix LLC) 
Taken from Not Quite Legal CD. Self-released 2016. 
2. Railbenders – Black Chrome Horse 
Denver, Colorado 
(James Dalton; Glenn Gibson/Triple JD Ranch) 
Taken from Like A Wheel CD. Whiskey Road Records 2009. 
3. Alligator Jackson – Enjoy The Ride 
Huntington, West Virgina 
(David Williams/Copyright Control) 
Taken from Chomp On CD. 9 Lives Records 2009. 
4. Eat A Peach – Ain't Wastin' Time No More 
Wilmington, Illinois 
(Gregory L. Allman/Unichappell) 
Taken from Bound To Shine CD. Self-released 2001. 
5. The Remus Tucker Band – Bury Me On The Banks Of Mississippi 
Denver, Colorado 
(Remus Tucker/CD Baby Publ.) 
Taken from South Of New Orleans CD. Graystone Records 2013.