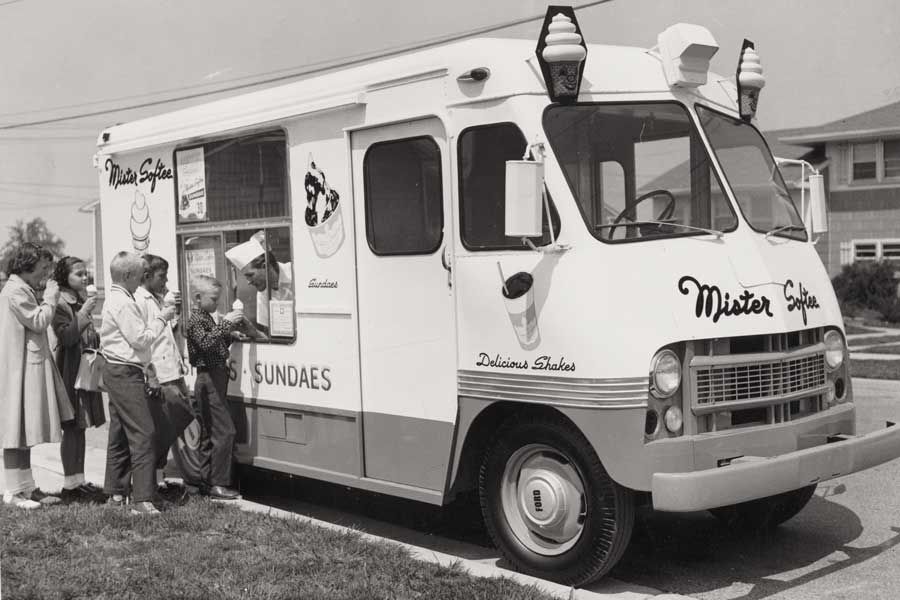 So AJ Dawg and I were sitting alongside Fourth Avenue enjoying an ice cold beverage on Jimmy John's patio. Suddenly, the beautiful evening was accompanied by music.   
But this was not Fourth Avenue music. This was not classic rock spilling out of a jukebox from a bar. This was not a rap track blasting out from Spotify as their car pulsates down the road. This was music I haven't heard very often in decades. But it was unmistakable.   It was the magical music of an ice cream truck.  
An ice cream truck at 9:30 on a Friday night in the middle of Downtown Huntington?  For 7 years  I have been a resident of Downtown and never seen an ice cream truck.  
Suddenly, I was a five year old boy anxiously jangling change in my hand as I stood on the sidewalk on Cleander Drive in Cincinnati watching Mister Softee approach.  
I could feel the hot Summer sun. No ice cream in your life is as good as the ice cream you ate as a five year old kid. Impossible. Not even Austin's at The Market can touch it. The ice cream of our youth was made with magic and served by angels…even though most ice cream truck drivers in my day were either 350 pound bearded guys with a tattoo that said Mom on his bare arm that fell out of his stained white Fruit of The Loom t-shirt or hippies.  
When we moved out of Cincinnati when I was 7, I had to give up Mister Softee cold Turkey. On Beechwood Drive in Cumberland we had The Sno Cone guy. Now don't get me wrong, I ate my share of sno cones but it sure wasn't that magical soft serve ice cream.  
One night after a few years, I was playing in my yard around 9:30. It was dark. I heard the ding. It was that ding. It was in the distance. I wandered a few yards over. I saw it!  In the distance the unmistakable blue and white truck with the ice cream cone with the face.  
At first I thought it was an illusion. I rubbed my eyes, it was true. Mister Softee was in Cumberland.  He never ever came down Beechwood. It was a tease but every now and then when the night was warm and quiet, I could hear the ding. I would drift into another yard and watch him serve frozen magic to lucky kids, hundreds of yards away.  
Occasionally in New York or Cincinnati, I have spottedMister Softee over the years. I have denied myself getting a cone because I know that grownup ice cream is never as good as the ice cream of our youth.  
Suddenly tonight, Big Worm was in front of me. Like a kid, I jumped up to the curb. He stopped. I reached in my pockets but no change. "We take credit cards", the driver said. And then something amazing happened. I froze as solid as the Bomb Pops he sells on his truck.  
I shook my head no…and he was gone in the night. Why?  There's a lot about life I don't know.  But I do know, ice cream when you are a 58 year old, eight and a half toed diabetic don't taste anything like when you were a five year old kid on a hot summer day.   
Well, yeah, deep down inside I know.  But…I don't believe in Santa Claus or the Easter Bunny so I want to keep believing that the bearded truck drivers serve magic. As I listened to the music fade down Fourth Avenue, I could taste that magical Mister Softee soft ice cream I had as a five year old…if only for a few seconds.