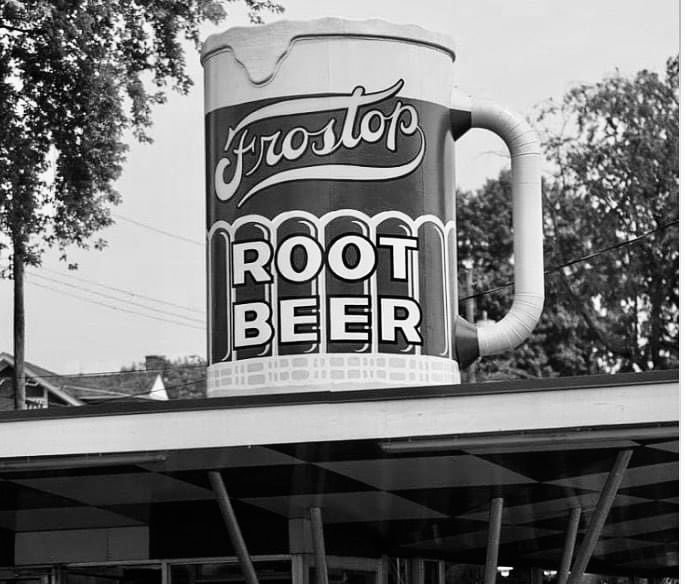 GATOR REFLECTIONS  
The first thing I saw when we pulled off of 64 into Huntington was Frostop's big mug. My first meal in Huntington would be a couple of hot dogs in the back of my dad's old Chrysler Newport with my dog Lucky on my lap.   
It was May 11, 1976.  It was the last before we pulled into the driveway of the house on Scott Drive in Proctorville, Ohio where I would spend the next 32 years of my life.  
Changes are hard…especially on 12 year old kids who were perfectly happy where they were. A lot of things I loved were left in Cumberland, Md.  
My brother, Mel, stayed to be an engineer on the railroad. My other brother, Gary, stayed to graduate from Fort Hill. Eventually, he moved with us but he didn't stay. He tried a semester of Marshall but soon transferred to University of Cincinnati. Before long, he was living in the middle of New York City. Now, he resides in California.  
Good friends were left behind. The Little League team I abandoned, The Pirates, after I led the team with a 560 average the year before, went on to be the league champs. I batted over 600 in Proctorville in a half year but didn't make the All-Star team due to not knowing anyone.  
The transition to Fairland was tough. There were fights in school but then again, I fought in Cumberland, too.  
My first day, I met my new neighbor Jeff Westlake. We were immediately best friends. Soon, I would meet Jimmie Nibert and then Tim Watts. Over 45 years later, we are still great friends.  
It takes a while to adjust to changes. Looking back, the change defined my life. Businesses started pulling out of Cumberland not long after we moved. The Maryland town struggles today. Most of my friends left not long after I did.  
Huntington is my home. We face challenges but I feel like I am on the front lines helping the good fight. As I write this, I am sitting above 4th Avenue with my dog watching a beautiful Spring morning in Downtown Huntington.  
Change can be scary. Many changes have challenged me over the years. Some battles were tough but will with it. Huntington is slowly pulling past some of our battles. The important thing to remember is just about everywhere is fighting the same battles. As the sun rises over 4th Avenue, I know Huntington will roll with the changes.  
Forty six years later, I am still glad to be here. The changes were tough but it has made me a better man. At 59, I am not ready to quit growing and meeting new challenges. Huntington, West Virginia is my home.